Join us as we share our summer holiday scrapbook memories
Hello there – I'm Carrie at The Inky Nook and I'm hopping with my Friends of SUBA this evening.  As it's August we are sharing summer holiday scrapbook layout ideas with you.
But first – who are we? We all met on some fabulous website and blog training headed up by Louise Sims and Pip Todman back in February 2018.  We decided to start a monthly hop to put our new skills into practice and support one another.
Scrapbooking – why I love it?
I first started scrapbooking when children were born (they are now 14 and 12) and at some point I will go back and finish these off.  However, since becoming a Stampin' Up! demonstrator I am now trying to keep up our family memories more up to date.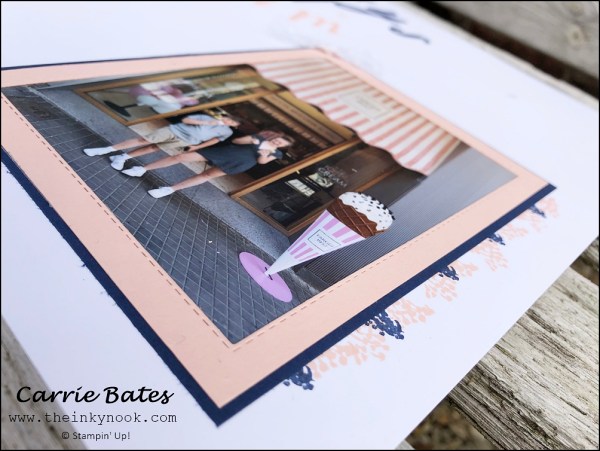 My hubby is self employed and his work is very seasonal so we don't go away during the main summer holidays.  However, we did go away with my parents and my brother to Barcelona for a city break during May half term.
Barcelona memories
We had the most wonderful few days exploring this historic vibrant city – there was something for everyone to enjoy.  There was lots of sightseeing and walking and delicious food and so many memories we have taken away.  Today, I'm sharing a favourite moment as my children can detect any homemade ice cream within sniffing distance !
This was an ice cream shop just at the side of the Sagrada Familia and I can't wait to scrapbook the rest of our trip in coming weeks
How are you recording your summer holiday memories?
Children love to scrapbook to so you can share this with them and they can pick their favourite memories too.  We have some great photo sleeves that you can slot photos straight into and journal next to.  I don't do full scrap layouts like this for all our photos as my time is limited just like yours. This is where you can use our Memories & More card collections and variety photo pocket pages.
If you'd like to know more about scrapbooking then send me a message here and I am happy to chat through how you can get started. I've included a list of the products I've used so you can see how simple it was to create this layout.
Now click on the links below in the hop list to see what my other lovely SUBA friends have created for you today.
Inky hugs,
Carrie xx
Product List