Hello and welcome to The Inky Nook with me, Carrie !  I live near Newark which is situated between Nottingham and Lincoln in the UK.  Today is my parents Sapphire wedding anniversary and how wonderful 45 years on they are still happy and in love.  Furthermore, I think they would both admit there have been high's and low's during this time but got through it together.  First of all I ordered them these gorgeous biscuits from Caroline at The Kitsch Hen and trust me they are delicious.
Happy Sapphire Wedding Anniversary from the grandchildren
To create this card I used the Floral Phrases stamps and dies along with the colours; Night of Navy and Whisper White.  These 2 colours combined with the intricate floral detailing of the dies result in a beautiful clean and crisp handmade card.
For the inside card layer I used one of the border stamps from Floral Phrases stamping along the bottom edge.  I teamed this up with a lovely quote from the same stamp set.
This bundle has been so useful for wedding and anniversary cards over the last couple of years.  However, from 1st June this next bundle is becoming a firm favourite for such occasions…
Happy Anniversary from me (& hubby)
Next Sapphire wedding anniversary card two in which I use the Meant to Be bundle from the current Occasions catalogue.  My regular workshop attendees loved this bundle for creating their valentines cards and you can see those cards here. Anyway, back to today where I've used Night of Navy teamed up with Seaside Spray a new incoming colour.
I did a quick Aqua Painter swoosh to create a Seaside Spray background and brushed clear Wink of Stella over the top.  Next I stamped the striped heart and mini heart in the Navy and Seaside Spray randomly around the watercoloured area.  Similarly I stamped these same hearts on the envelope and inside card layer to complement the card front.  The next close up photo shows you the glitter sparkle and the detail of the heart die cuts.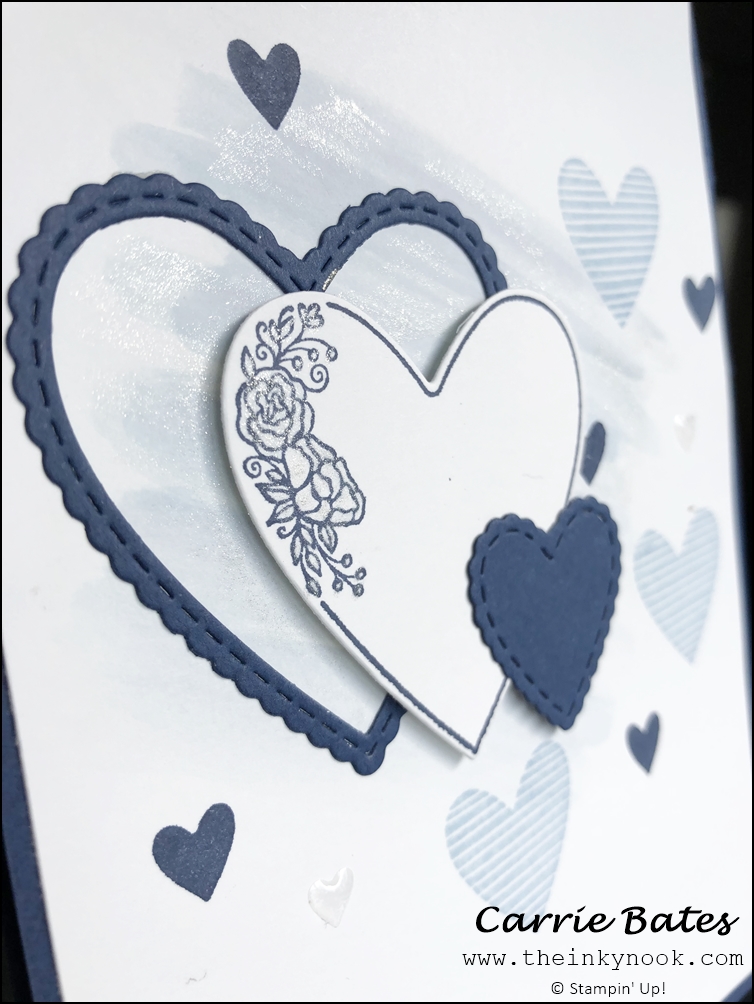 Finally I stamped the larger heart with floral detail onto whisper white card and cut out the three hearts using the dies.  Also to finish the card off I added 3 of the smallest epoxy clear hearts in a rough triangle layout.
Goodbye for now
I would love to hear which card is your favourite in the comments below and in addition please see the product links below if you want to re-create.  Enjoy the rest of your weekend and feel free to message me if you've got any questions !
Inky hugs,
Carrie xx
Card 1 Product List
Card 2 Product List